A few days ago we gave you an article about how to play Pai Gow poker. And because we know that you want to play to win, today we will help with that. And that's why we are focusing on Pai Gow Poker tips that can help you kick the card game's butt.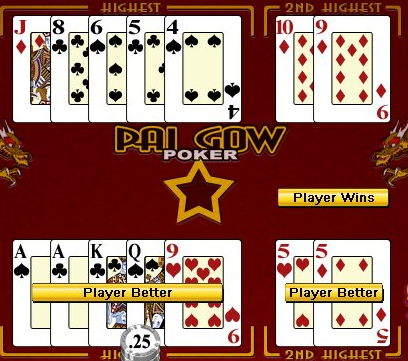 Pai Gow Poker Tips
You already know the first Pai Gow Poker tip, but we are still going to spell it out for you regardless. Know your poker hands. That's the best way that you can win at any poker version.
And once you know your poker, make sure that you know the rules of the game. That makes your gameplay a whole lot smoother and more enjoyable.
After you read all the rules, just make sure that you play the game for fun before you play for real money. That way you will test your skills and see how good you are at creating the 2 separate hands that are required for this game.
When the cards are dealt and you have no pair at all, place your highest card in your backhand, and the next two highest cards in the front.
But if you do have a pair, move it to your front hand, this would be the 5 card hand. And move the next to highest cards to the front. By doing this you will have a greater chance of beating the dealer.
If you happen to land 3 sets of pairs, always play your highest pair in the front hand.
For those who are lucky enough to be dealt with all the Aces, we advise you to split. That is unless you have a set of Kings that you can furnish your front hand with.
There are a whole lot more Pai Gow poker tips, but that would be spoon feeding you. And by doing that we remove the challenging part. So that will be all for today folks.