RealTime Gaming software offers the Food Fight online a 5 reel slot game in. The slot has a really 'tasty' design, featuring really tasty treats for you if you win. Food Fight features 9 pay lines and a 4 000 coin jackpot. It also offers a number of bonus games that are exciting. Though the game is a bit out-dated, it has a vintage feel to it that some old school players would love.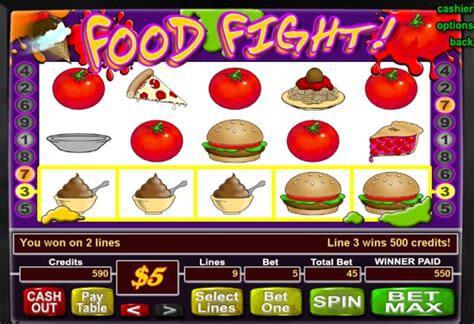 Food Fight has a simple, food theme that will surely get you hungry as you spin the reels. The symbols are bound to make you feel ravenous, featuring huge meaty hamburgers, fresh tomatoes, spaghetti and meatballs and delicious pizzas. Like any hearty meal, the game also offers some desserts. As you spin, you will come across symbols such as chocolate mousse pudding, as well as blackberry pie. The game presents its symbols as 2-dimensional cartoons. However, it's screen is so colourful and offers a vintage style design.
Food Fight Gameplay
Players have control over how many pay lines they want to play on the five reels. You can decide to play for as little as 1 line, or you can choose to play all of the 9 lines. Players can also choose to bet 1, 2 up to 5 coins on each of the active pay lines, which makes a max overall wager of 45 coins.
The game's payouts seem to be a bit confusing. There is no constant correlation between the combinations, as well as the number of coins placed. To explain this further, the paytable says if 4 pasta symbols align on an active pay line, you will be awarded a prize of 500 coins. Players who get the same combination with 3 symbols will get 50 coins.
There is a progressive jackpot that continuously rises. It is located at the top right-hand corner. You will win this jackpot if you line up 5 pudding symbols. You should also be playing with the Max Bet.
If you find the Scoop of Ice Cream, a Cherry symbol and a Cone on the same spin, you unlock the Ice Cream Scatter bonus. This will award a random bonus that's worth up to 405 coins. You will activate the Food Fight Bonus when you land the relevant scattered ingredients to make a creampie. You will then have to choose which of the following to throw a pie at; a hall monitor, a coach, a heartthrob teacher, a lanky nerd and a grungy rocker. You have to keep throwing until you miss and each hit returns the total slot bet, with the max bonus prize being 3 960 credits.