Punt Casino is offering all South Africans a game based on a musical monkey. The Funky Monkey online video slot from RealTime Gaming is exciting and full of fun. The online game has a very colourful design and pleasurable graphics to woo you in. Its theme blends the traditional and the fresh together, creating something that is a little out of the ordinary. The game also has a simplicity to it. There are a few distractions during gameplay.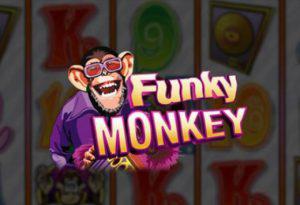 Funky Monkey Gameplay
Funky Monkey is one of the few basic-style internet slot games available in Mzansi. This game has just one payline. Having one payline (or a limited number of paylines) will inevitably reduce a player's chances of winning. This can put some players off. Slot games with few paylines are, however, perfect for first-time slot game players. They offer a chance to understand how slot game's work.
The Funky Monkey grins as he holds a bongo and wears a purple suit, standing at the top left side of the screen. His look allows him to stand out from the backdrop as the rest of the screen is green. He also has a mischievous look that is entertaining and encouraging to the player.
At the top of the reels is the game's pay table. This pay table is shown throughout the duration of the game, allowing the player to see what they can win. The 'bet one' button underneath the 3 slot reels increases the bet, as well as the amount that can be won. The prizes to be won at the lowest bet amount vary from 10x to 800x. According to the pay table, the middle bet can give a player prizes between 20x and 1 600x the coin that would have been placed. At the highest bet amount, players have the opportunity to win prizes between 30x and 2 500x. For such a basic game, these prizes are very high and inviting.
Funky Monkey offers an excellent bankroll boosting feature. You get to win four times the amount bet for any 3 symbols on a line. There are symbols that are seldom seen in the game. You should look out for these as they give higher prizes. Should you blow the standard 4x multiplier out of the water, you could get a multiplier of about 800x.
Funky Monkey Online Slot at Punt Casino
This game is perfect for almost all budgets because of its low wagering requirements. You can start betting at R0.50 per spin to R50.00 per spin. This means that you won't lose too much money too quickly should you choose to bet low.
As a classic online slot game, it doesn't offer scatter games, wild symbols or bonus rounds like an available slot game's. This makes it interesting to play and the payouts are quite good.