As South Africans, we are a fun loving people that would explain why we have so many awards. That being said, let's take a look at the 2018 Feather Awards. We are guessing that you didn't know that we had such an award ceremony in S.A huh? No worries, allow us to give you the 411 on them.
What are the Feather Awards?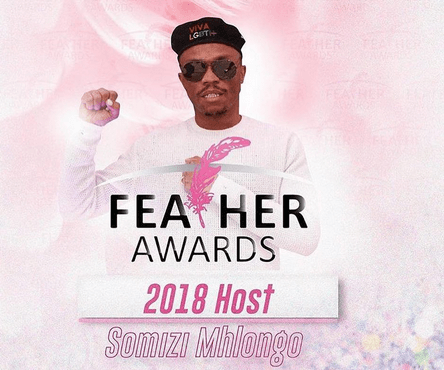 The Feather Awards were launched to celebrate the life of high profile personalities. These people despite their lifestyles are also inspirational, humorous and memorable. It wouldn't be South Africa if these very same individuals who are a bit scandalous.
Throughout the years, the Feather have however broadened their scope. They now also look at struggles of sexual minorities across African countries.
The 10th anniversary was held at the Joburg City Hall in Gauteng last night. The night was made memorable by a commentary from Somizi Mhlongo. Not forgetting performances by Nhlanhla Nciza, the Mzansi Gay Choir, and Zoe Modiga.
There was also a lovely surprise by reality TV Star Evodia "Madame" Mogase and her daughter Mercy. It was surely a memorable night, you should have been there.
Winners
Allow us now to take a look at a few of the winners of the 2018 Feather Awards.
Ricky Rick "Boss Zonke" walked away as the Best Styled Male. We have to admit though, King Kotini does know how to dress. The Best Styled Female was awarded to Ayanda Thabethe. In every nation, there needs to be a diva or two, but in case, just one will do the trick. And for that, Thembsie Matu was the Diva Extraordinaire.
Michelle Mosalakae took the Hot Chick Award while Bohang Moeko was the Hunk of the Year. The Media Award of the year was scoped by GaySA Radio. While Sjava was named the Musician of the Year.
The Role Model of the Year was awarded to Ntsupe Mohapi and Yaya Mavundla was the Socialite of the Year.