Glory, glory Oprah, glory! Oprah's Magazine Goes Digital! OprahMag.com launched at 10:00 am on the 10th of October 2018.
The O Magazine has been online already on Oprah's main website, Oprah.com, including the OWN network, her book club, etc.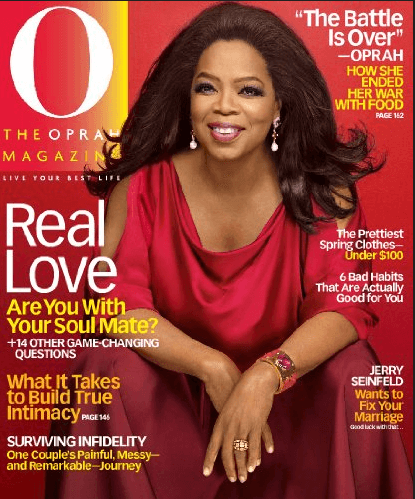 Oprah's Magazine Goes Digital
The newly-minted website, OprahMag.com, has been launched specifically for Oprah's The Oprah Magazine. The print version of the magazine has a loyal following of about 2,400,000 readers every month. This makes it a success and one of the top women's magazines in the United States.
Oprah's print version of the magazine first hit newsstands in 2000 with its May/June issue. Now, 18 years later, the magazine has gone digital. We've checked out the online version and we love it! There's just so much to read, with daily updates and articles. Chief content officer for Hearst Magazines, Kate Lewis, said they felt they were missing an opportunity by not connecting daily. This is the reason for the move.
Arianna Davis, the digital director, will head the website. Hearst and Harpo, Inc. expect this move to be really profitable. The e-magazine will have various newsworthy stories, coverage of live events, and content from the print version. Content from the Cosmopolitan and Elle will also be available on the site since Hearst is the owner.
Investing in OprahMag.com is smart for big brands and businesses. IKEA, Swedish furniture line has already jumped on board. The company is the exclusive sponsor of the website for the first 2 weeks.
Hearst gets the opportunity to package Oprah digitally and in print with its other various properties through OprahMag.com. Jayne Jamison says that their largest advertisers can now buy across the entire spectrum with them. Jamison is the magazine's chief revenue officer to the Wall Street Journal.
Oprah Winfrey is that one person that you would love to see succeed. We all know her for her generosity, having donated over $425 million dollars.
Next time you're playing online casino games, click Autoplay and then head over to OprahMag.com to catch the latest news.