You will see that the topic does not have a "how to" to it. This does not mean that the "how to" won't be there later on. We just have to get you to play Caribbean Stud Poker first. Why?  Because the game is so easy to play. Let us show you just how easy the game is to play.
How to Play Caribbean Stud Poker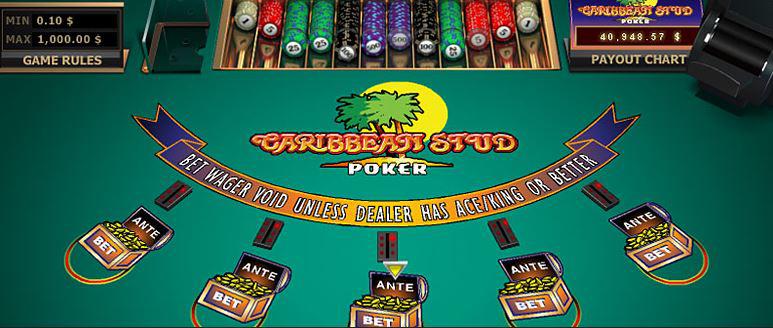 If you have ever played Traditional Poker you will see that Caribbean stud poker is very much similar to it. One of the major differences with Caribbean Stud is, the player plays against the house and not against the other players. So if you don't have a poker face, this is the game for you.
Bets and Payouts
The minimum bet that can be placed when playing the game is 1 credit and the maximum can range from 100-500 total credits. To begin your poker game, place your Ante bet.
The amount that can be won depends on the bet that has been placed when the game begins. Players can have a High Card win of 1:1 or if you are lucky a Royal Flush that pays out 200:1.
Gameplay
Players will receive 5 face-up cards. The dealer will also get 5 cards but with four cards that will be shown face down. By the way, the goal of Caribbean Stud Poker is to have a higher value poker hand. Later on, we will write about the poker hands to shed a bit more light on the issue.
Back to the game, in order for the dealer to have the upper hand, they must at least have an Ace, King, a pair or better.
Rules
If the dealer doesn't qualify, you win even money.
If the dealer does qualify, then its game on and may the best poker hand win.
And if by chance there is a tie, the card with the highest value will determine the win.
Special Features
Caribbean Stud comes with a progressive jackpot. But this will only be activated when you add an extra bet at the time of the first bet. The coin slot will light up when the progressive jackpot win is active.