One look at an online craps table may have you running for the hills. But craps is actually very fun and easy to play. Follow our beginners guide to internet craps, and you will be playing the game in no time.
How to Play Online Craps
Bets
There are several areas to bet on when playing this casino game. The most common are the Passline Bet, the Don't Pass bet, the Odds and the Come Bet.
Passline Bet
You place your bet on the area marked Passline.  In the first roll of the dice, if you roll a 7 or an 11 you win but if you roll a 2, 3 or 12 you lose. You will notice that at the corner of the screen there is a little black circle, it is called the Puk. As long as you keep on rolling a 7 or 11 the Puk will stay off.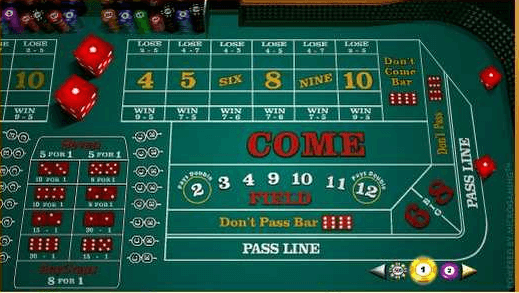 Don't Pass Bet
A Don't Pass Bet is betting on the Craps, these are the 2, 3 and 12. You place your bet in the area written Don't Pass Bet. You win if the shooter throws a 2 or a 3. If you roll a 12, it's a tie. You lose if you roll a 7 or 11.
Come Bets
If in the first roll of the dice, you roll 4, 6, 8, 9 or 10, the Puk will flip over to "On".  These are called Box Point numbers. You can roll any of those numbers to keep on playing the game.  Placing a Come bet is betting that any other number that wasn't rolled first will come.
Odds
Betting on Odds is betting that the number that turned the Puk on will appear. This bet has no house edge and pays 2:1.
Have a Go
These are the basics of online craps. So now that you know the basics you can play at Punt Casino. If you are not sure, you can always play for fun before you play for real money.