George H.W. Bush, who died on the 30th of November 2018 at the age of 94, loved skydiving. The 41st U.S. president served in the U.S. Navy as a pilot during World War II. This is probably where he developed the love for high-flying activity.
The former president celebrated his major age milestone in sky-high style. He celebrated his 75th, 80th, 85th and 90 birthdays by skydiving. Press reports say that he would leap out of flying planes to commemorate his birthdays. In fact, his last parachute jump was when he turned 90 in June of 2014. He got help from his family who carried him from his wheelchair to the chopper. There, they sang "happy birthday for him" before the chopper took off.
George H.W. Bush then jumped from a helicopter at about 6 000 feet. He was harnessed to Sargent 1st Class Mike Elliot. Elliot is a retired member of the Golden Knights which happens to be the Army's parachute team. Elliot did manage to land Bush gently.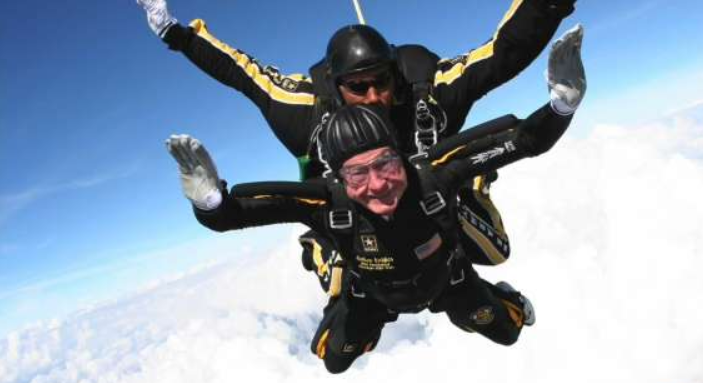 Commenting on skydiving with the former president, Sgt Mike Elliott said that is what Bush wanted for his birthday. He went on to say, "It's a very good feeling to be involved and be able to turn back time. He's probably feeling younger now than ever."
At that time, USA Today reported that Bush had touched down near his home in Kennebunkport.
After the event, Bush tweeted, "It's a wonderful day in Maine — in fact, nice enough for a parachute jump."
People who witnessed the event say that when Bush landed, his wife, Barbara, greeted him with a kiss. He also received a hug from former President George W. Bush, his son. His spokesperson, Jim McGarth, said that Bush enjoyed the thrills and adrenalin.
McGarth went on to say that this was vintage Bush. He said that it was Bush's passion for life. "It's that passion for life. It's wanting to set a goal, wanting to achieve it. I'm sure part of it is sending a message to others that even in your retirement years you can still find challenges," he continued.