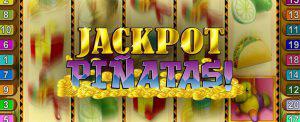 Winning a jackpot prize on online casino games has never been easier. This is because of the amazing range of jackpot prizes that Punt casino has in store for all the punters. So if I were you, I would just stop reading this post, log in and play. But since you are still reading, here are a few of the amazing prizes that South Africa's finest online casino has in store for you.
Jackpot Piñatas
As you can tell by the name, there is a jackpot to be won here. How do you win this jackpot? Simple you log in and play. Sounds a bit too simple though, but that's how easy it is. All you have to do is to make sure that as you spin the reels on this game. Get the Dog Piñata and stand a chance to get your bet multiplied.  You may be the winner of jackpot pot which is more than R5 000 000.
Shopping Spree
You can't be still reading this instead of playing. If its because you think that the jackpot for Jackpot Piñatas is too little of an amount to play for then okay. Try out Shopping Spree II. The slot has a jackpot worth more than R6 000 000, that's an extra million Rand to play for.
Aztec Millions
Haibo, you are still here? Okay, why not finally log on and play Aztec Millions. The jackpot is at more than R19 000 000. If that doesn't get you playing, then I do not know what will. Actually, I do, the total jackpot at Punt Casino is at more than R60 000 000. If these are not the games for you, then take your time (not too much time) and look for other games to play like Cleopatra's Gold, Samba Sunset, Sweet 16, or even Aladdin's wishes.