For those fans of mythology, Mermaid Queen is the slot game for you. The online video slot by RealTime Gaming explores the aquatic aspect of these myths. The game uses the Mermaid and Mermen, who are said to have been servants of different gods, including Neptune and Poseidon. These two creatures will guide you throughout gameplay, giving you free spins, multipliers, as well as other bonus features.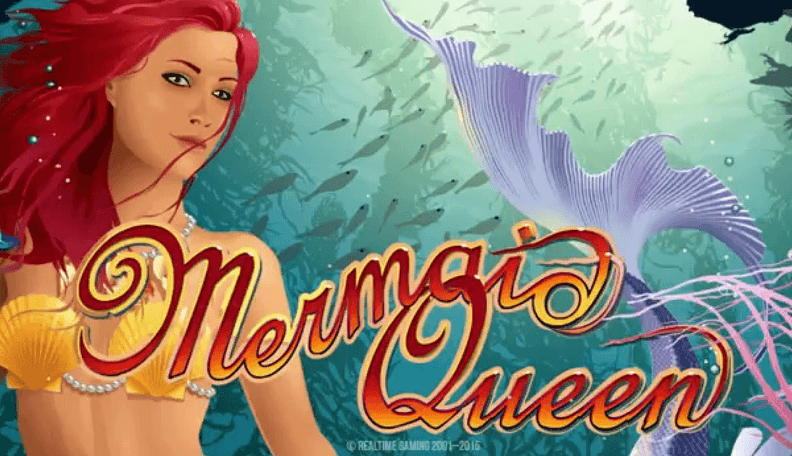 Mermaid Queen helps the player to relax and be calm during gameplay. The design of the game is full of vibrant, bright colours that mimic the ocean. It incorporates a lot of colours such as greens, yellows and pinks to remind the player of the beach, seashells and everything that has to do with the oceans. As you begin your game, you will be met by a Merman who will be wielding a torch, illuminating your way with lovely 3D graphics.
The game's background is made up of a stunning vista over the surface of the ocean. Underneath you, at the bottom of the sea, you will see the waves rolling. Directly overhead, there will be stars shining brightly. The game is a bit dark, with undertones that are almost sleepy. The reels have been designed to look like sea foam that is lined with gold. To further complement the mythological theme, the buttons look like they were carved out of wood. They are very clear and easy to read, with lettering that is very colourful and large.
Mermaid Queen Gameplay
Mermaid Queen had quite a few ways to win, including its progressive random jackpot. The game's progressive jackpot grows in size slowly as you play. It starts at 8 000 credits and grows during gameplay, and can be obtained during any spin. If you are lucky enough, you can win the jackpot. There is really no strategy to obtaining it. Apart from the jackpot, the game also offers some free spins, as well as other bonus prizes. It offers quick payouts, high-paying rates and is reasonably volatile. It is also very easy to play, as well as fun so if you love mythology or the underwater, give this game a try today.